Sector
Commercial
Type
Sustainability And Environmental Consultancy
Location
Hong Kong's various Districts
Tag
Green Building
Healthy Building
urban microclimate
China Healthy Building Design Label

Projects & Services
Share

Print

Appointed by Henderson Land Development Company Limited, AEC has served as a sustainable design consultant for its residential project called CAINE HILL, where we have provided an all-rounded green and healthy building design services to promote green living style, enhance health and wellness, and create a better neighborhood environment in the residential development.
This project has been integrated with Environmental, Social and Governance (ESG) concepts and won four leading environmental accolades for its over 20 sustainable design elements, including Asia Pacific Property Awards 2020-2021 Best Residential High Rise Development Hong Kong – 5-Star Winner and the first residential project in Hong Kong achieving the highest rating "Three-star" in the China Healthy Building Design Label.
To create a better living and surrounding environment, we have studied the urban microclimate conditions and designed to improve natural ventilation through the use of Computational Fluid Dynamic (CFD) modelling, and enhanced thermal comfort with greenery and pools to reduce the operative temperature. There is a smart monitoring system called the "weather tree" in the clubhouse to collect local meteorological data such as ambient air quality and daylight conditions. The residents will be notified of relevant green and healthy living recommendations through the intelligent home system. The neighborhood environment has also been considered in the early planning stage. As a result, the building is set back to increase pedestrian space.
In addition, a number of initiatives have been adopted to save water and reduce waste. For instance, a rainwater harvesting system is set up to collect rainwater, which can be reused in the clubhouse after treatment. When it comes to construction work, aluminum formwork was used to replace its timber counterpart to save thousands of boards.
Developed by Henderson Land, CAINE HILL is located at 73 Caine Road and is a 27-storey residential building providing 187 units. It is planned for completion in 2023.
(Photo credit: Henderson Land Development Company Limited)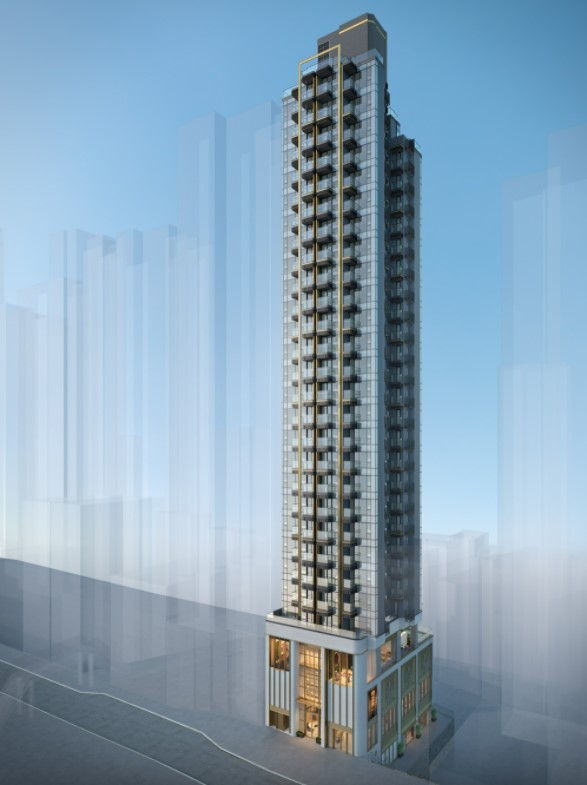 Projects & Services