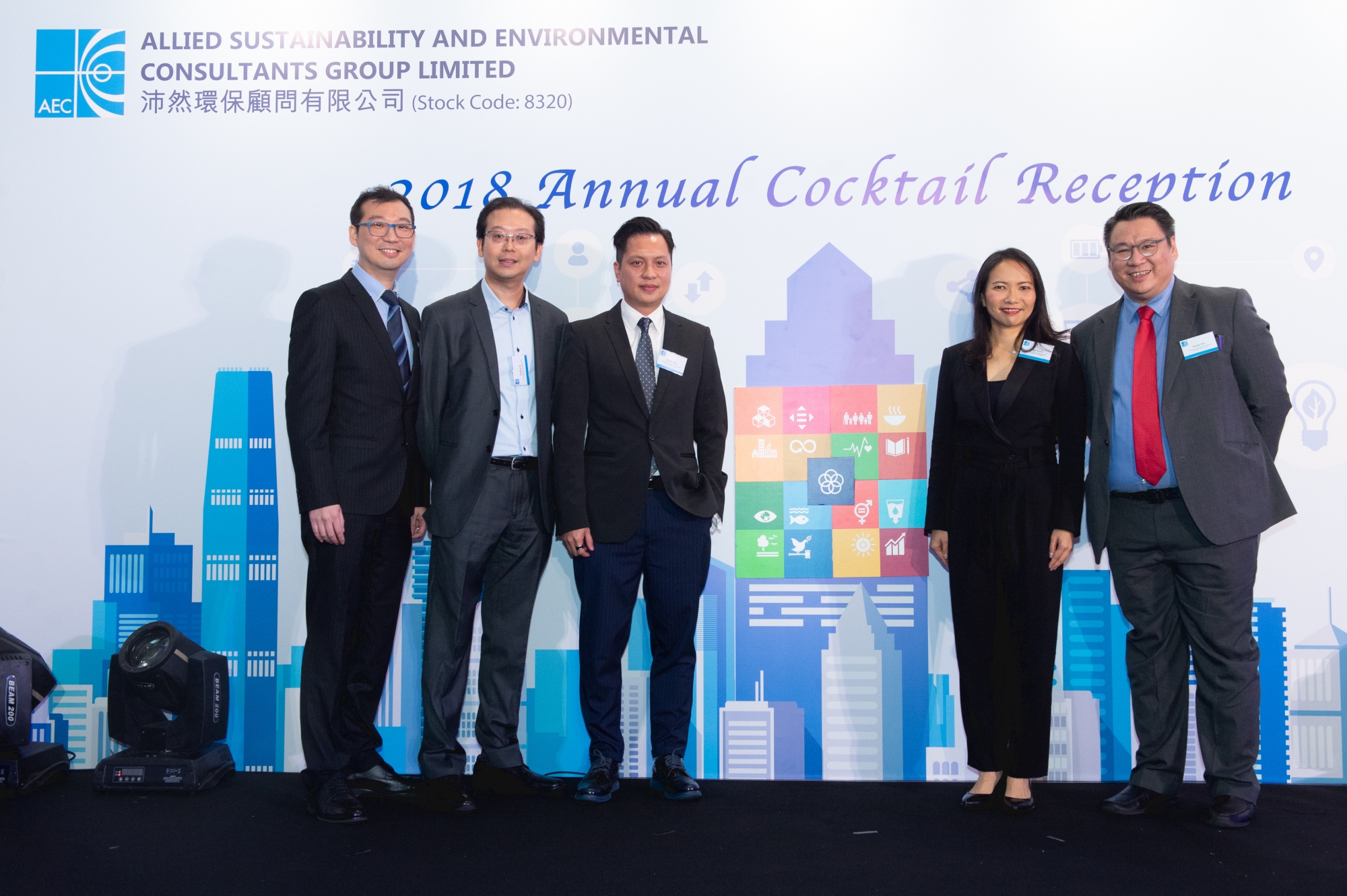 Share

Print

2018 Annual Cocktail Reception
Category
Corporate News
Date
23 Nov 2018
Tag

News & Events
Share

Print

AEC Group held an annual cocktail reception at sky100 Hong Kong Observation Deck at the International Commerce Centre (ICC) on 23 November 2018. Around 200 prestigious guests from industry leaders, business partners, friends from many different fields, our colleagues and in particular our long cherished clients gathered at the cocktail reception, where AEC Group demonstrated its commitment to United Nations' Sustainable Development Goals.
Joining Hands with All Sectors to Combat Climate Change
According to the alarming report released by the Intergovernmental Panel on Climate Change (IPCC) in October 2018, every country, business and person in the world will need to step up climate action if the world is to limit temperature rise to 1.5°C. Without a global coordinated effort, the world will reach 1.5 °C in as little as 12 years.
Speaking at the cocktail reception, Ms Grace Kwok, Chairman and Executive Director of AEC Group, said, "Climate change does not only affect our business operations but also our daily lives. As a leading sustainability and environmental consulting firm, AEC Group will walk the talk and take the initiative to demonstrate our commitment to United Nations' Sustainable Development Goals (SDGs), in particular, SDG 17: Partnerships for the Goals. We believe that concerted efforts of all sectors are required to realize our shared vision to curb global warming. To this end, we will continue to drive sustainability leadership through our expertise, nurture sustainability values for our community, and work hand in hand with all the stakeholders."
Serving as a Close Partner in ICC's Continuous Pursuit of Sustainability Leadership
AEC Group has developed and maintained a long-term partnership with ICC management team for over ten years. This started with various sustainable built environment studies at the planning stage, and subsequently green building design and certification during the design and construction stage. Last year, we were part of the team in ICC's achievement of the tallest building in Hong Kong awarded Final Platinum under BEAM Plus Existing Buildings V2.0. This long-term partnership has not only demonstrated AEC Group's one-stop sustainability and environmental consultancy services throughout a building's life cycle, but also our determination to collaborate with all sectors in creating a sustainable built environment.
Moving Towards 25th Anniversary and Achieving New Heights
In light of the ambitious goals of the Paris Agreement on climate change and the rising expectation of environmental protection and sustainable development, AEC Group has been exploring various opportunities to develop more environmental products and solutions. This year, AEC Group has launched its new products, namely smart energy dashboard and indoor air quality solution, with an aim to enhance our capability to serve all sectors for addressing environmental problems and combating climate change. Apart from what we have achieved, we will seize precious opportunities arising from green finance and the Greater Bay Area to expand our business and provide more innovative products and solutions. Moving towards the 25th anniversary next year, we look forward to continued co-operation among various sectors to realize our shared vision to make Hong Kong a more liveable and sustainable city.

News & Events